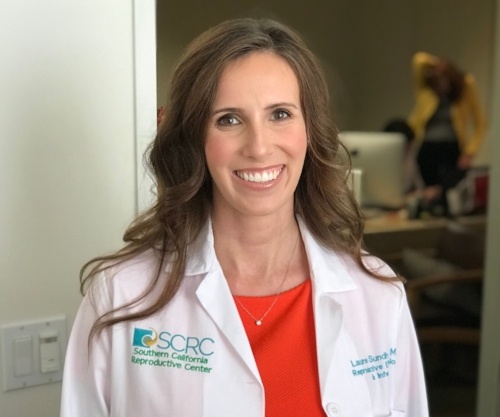 Late last year, we had the great good fortune to add a new doctor to our SCRC family. Dr. Lauren Sundheimer joined us in the fall of 2018, heading up the new SCRC Torrance location, and immediately became indispensable. As part of our continuing Doctor Spotlight series, we thought we'd spend today helping you get to know her a little better.
Today's Doctor Spotlight: Lauren W. Sundheimer, M.D, M.S, F.A.C.O.G
Dr. Sundheimer began her journey to fertility medicine here in California. From the very start, she was driven by intense curiosity and a scientific mind. She earned a BS in biochemistry and a BA in political science from U.C. San Diego, where she also completed an extremely competitive joint bachelor's and master's degree program in biology. From there, her quest for knowledge carried her to medical school at U.C. Irvine. It was in those early days of studying medicine that she first uncovered a deep interest in women's health, a passion which led her to complete her residency in obstetrics and gynecology and then on to a fellowship in reproductive endocrinology and infertility at the combined UCLA and Cedars-Sinai Medical Center.
The Road from Research to Clinical Care
Dr. Sundheimer's initial fascination with how the body regulates itself and its functions sent her into the world of clinical research, and she led important studies for a number of major pharmaceutical companies. As her interest in reproductive health and fertility deepened, she decided that she wanted her career to be more involved in the direct day-to-day care of patients who were struggling to create their families. The chance to offer that potentially life-changing help to those who need it most was the driving force that eventually brought her to SCRC (much to the delight of her new colleagues and patients alike).
Along with her interest in the diagnosis and management of infertility, Dr. Sundheimer is particularly committed to assisting the LGBTQ community in family planning and building, as well as single-parent family building. Her original commitment to women's health remains, no matter what the family planning status of her patients. She regularly treats women who are seeking fertility preservation and patients with reproductive endocrine problems and issues, such as PCOS and endometriosis.
Although Dr. Sundheimer is deeply involved in patient consultation and care, her devotion to research continues, and most recently she has been involved in the evaluation of preimplantation genetic screening technology and a study of the outcome differences among fertility-treatment-assisted pregnancies. She has other ongoing projects as well.
Spreading the Knowledge and Love
In her short time at SCRC so far, Dr. Sundheimer has already proven herself to be an enthusiastic community advocate and educator. With a warm and supportive spirit and a heart for patient outreach, she loves communication with patients and readers of the blog. Dr. Sundheimer can often be found spreading positivity, hope, and valuable information about reproductive health on social media, including her inspiring Instagram account. Her posts about such subjects as egg freezing, the average menstrual cycle, and Endometrial Receptivity Analysis (ERA) are compassionate, easy-to-understand, and no-nonsense: exactly the kind of myth-busting, truth-telling patient education we stand for here at SCRC. She also makes takes time to get out and about to live events celebrating and promoting women's health, including the Power of Pink Women's Wellness Conference.
Patients First: a Holistic Perspective to Fertility Treatment
There are a lot of numbers, statistics, and acronyms in the world of infertility, which can leave many patients feeling alienated, isolated, and as if they are no longer an individual. Dr. Sundheimer's approach to patient care is the perfect anecdote. Every woman is unique, with a life and history that is entirely her own. When approaching the mystery of infertility or other reproductive endocrine issues, she takes the time to balance these challenges with the lifestyle, stressors, and other medical issues a patient may be experiencing. This focus on the patient experience makes Dr. Sundheimer a comforting presence and a formidable ally to everyone who walks into her office. We are proud to have her as a colleague and friend!
Share this on social media: