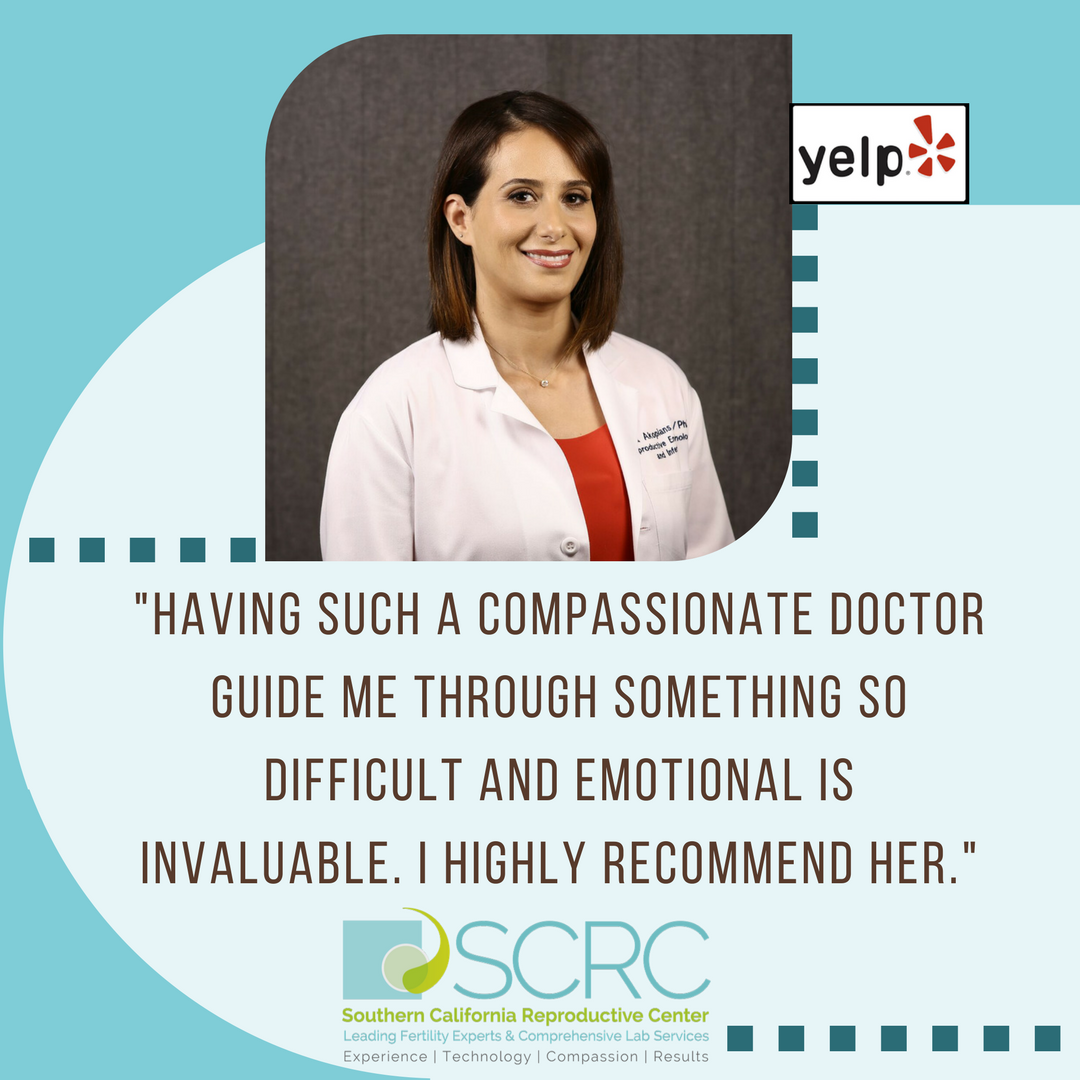 Choosing a fertility doctor to help you on your path to parenthood isn't easy. It's one of the most important decisions you can make. You want someone who is practicing at the top of their field so that you may have access to all the latest research and techniques, but there is more to the doctor/patient relationship than that. You need a doctor who will treat you as a valued part of the team, help you choose the right treatment plan, hear your concerns and offer expert, compassionate care at every stage.
Finding the right fit can transform your experience of fertility treatment, but when you're trying to narrow down your options before visiting clinics or attending a consultation, it can be difficult to get a real sense of a doctor's style from a brief bio on a clinic's website. That's why we've decided to begin a series of Doctor Spotlights here on the SCRC blog, to introduce the physicians who have dedicated their professional lives to helping families realize their dream of a new baby. We hope it will give you a better glimpse at how our doctors work and the impact they've made on their patients, and help you get to know them a little bit better.
Today's Doctor Spotlight: Alin Lina Akopians, MD, PhD
Dr. Akopians joined SCRC after her accelerated two-year Reproductive Endocrinology & Infertility (REI) fellowship program at University of California, Los Angeles (UCLA). She received her Bachelors and Masters in Physiological Science as well as her Ph.D. in Molecular, Cellular, and Integrative Physiology from UCLA and completed her medical training at Albany Medical College in New York, then returned to LA to finish her OB/GYN Residency program at UCLA. Over the course of this exceptional education, she was chosen as the deserving recipient of many prestigious academic honors and awards. She graduated Magna Cum Laude from UCLA for her undergraduate studies and was recognized with the Alpha Omega Alpha (AOA) Award for her medical education, the Arthur Hengerer, M.D. Award for excellence in GYN surgery at Albany Medical College, and the Special Resident in Minimal Invasive Gynecological Surgery Award at UCLA OB/GYN residency program.
The same commitment excellence continues now that Dr. Akopians is a professor at UCLA Extension, passing on her wealth of knowledge to the fertility experts of the future. Her pursuit of knowledge has never waned, and she has authored and co-authored many research publications covering a range of reproductive and prenatal related topics, including research on polycystic ovarian syndrome (PCOS) and egg freezing.
Above all, Dr. Akopians spends her days caring for patients at the clinic who are dreaming of their long-awaited baby. Her impressive academic background and her in-depth understanding of the human reproductive system are in constant use as she helps patients solve the puzzle of infertility and guides them through each step of their individualized treatment plans.
Educating the Public Through Press and Public Events
Outreach is a big part of what we do here at SCRC, and Dr. Akopians is a fantastic advocate and ambassador for fertility preservation and treatment. She has been featured on CBS news where she discussed the growth of elective egg freezing and our initiative to educate and empower people by introducing them to their fertility preservation options. She has also been interviewed by SELF magazine on the potential risks of multiple pregnancies and by Prevention magazine about the possible causes of unusually light periods.
Dr. Akopians also speaks at in-person events such as the SoCal Women's Health Conference & Expo, sharing her expertise with people who want to learn more about how fertility treatment and preservation can change lives. Dr. Akopians has spoken at Grand Rounds, Harbor UCLA, Verdugo Hospital, and Olive View Hospital on various reproductive topics which include endometriosis, PCOS, infertility, and fertility preservation. At our own educational seminars here at SCRC such as "Fertility 101 - Getting Started On Your Journey To Parenthood" she presents detailed information about all the fertility treatment options available to prospective parents. This important work helps people understand what's possible, and inspires hope in people who are dealing with a very stressful time in their lives.
What Patients are Saying About Dr. Akopians
Achievements, awards, and press coverage are all wonderful indicators of a physician's skill, but sometimes the most meaningful recognition a doctor can receive is feedback from grateful patients. As one recent patient said of Dr. Akopians:
"The world of fertility treatments can be overwhelming, stressful, and costly, but with Dr. Akopians we always felt reassured and in the best of hands."
This testimonial is a beautiful example of the difference finding the right doctor can make:
"Choosing a fertility doctor is a decision many don't take lightly. I, for one, went back and forth choosing a fertility clinic. You can only imagine how difficult it was for me to choose a good doctor and luckily, I chose the best fertility doctor there is. IVF is a highly emotional procedure and it was comforting knowing that I had a doctor like Dr. Akopians looking out for me. She is not only highly intelligent, but also very caring as well. She listened to all of my needs during the process and did her best to keep me in good spirits. I had an amazing outcome with Dr. Akopians and am currently pregnant with a baby boy. I couldn't have made a better decision than choosing Dr. Akopians as my fertility doctor. I highly recommend her if you are considering IVF or for any of your other fertility needs."
When you're making that decision for yourself, hearing about the experience that patients like you have had with a fertility doctor can help you discover whether they might be the right one for you. We're always so grateful when someone chooses to share their experience at SCRC. It helps us know that we are on the right track, but most of all we hope that these words will be a light in the darkness for someone who is searching for their own answers.
Dr. Lina Akopians is a vibrant presence on the SCRC team, earning the respect of her colleagues and the love of her patients. Her passion for reproductive medicine and her devotion to providing exceptional care to every patient she works with are the driving force behind everything she does.
Share this on social media: